Find A Henig Near You
Visit us throughout the southeast at Henig Furs and Belk Fur Salons.
Find A Location
Get Great deals by Email
Sign up for our e-Newsletter to receive special offers and discounts.
About Us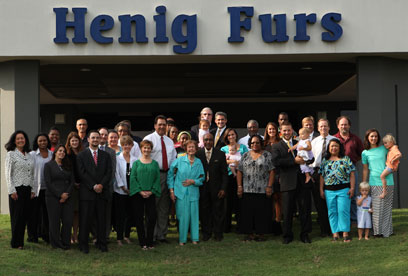 The Henig Story
Whether your tastes are traditional or contemporary, Henig Furs and Leathers has a style for you. We've been producing fine quality furs and leathers for five generations. As the largest furrier in the Southeast, we offer a wide selection of furs; from fashionable Mink, Beaver, and Fox, to the very finest Canadian and Russian Lynx, Chinchilla and Sable.
Fur manufacturing is a Henig tradition that began with President and CEO Mike Henig's great-grandfather in Europe and continued when his grandfather immigrated to New York City. This tradition continued through the third generation with Mike's father, John Henig, who brought the trade to the Southeast over 50 years ago.
In 1977, Mike joined, his father as a partner and they expanded the business through wholesale manufacturing and retail stores. Now Henig Furs has over twenty retail stores throughout the Southeast, including salons in Belk Department stores.
With the addition of Mike's children Michael Henig and Alex Henig Jones in 2008 forming the fifth generation, the company still operates on the founding principles of quality selection and customer service.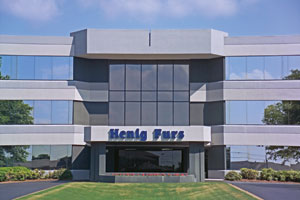 Store/ShowRoom:
(Open to the Public)
4135 Carmichael
Montgomery, AL 36106
M-F 9am-5pm Sat 9am-5pm Sun 12pm-5pm
Call us (334)277-7610

Employment Opportunities: Contact our Headquarters for more details. 334-277-7610
Master Furrier - Henig Furs, Inc. is looking for a Master Furrier for our corporate headquarters in Montgomery, AL. 10 years experience plus 2 years training is required. Master Furrier must be skilled in the creation and design of fur garments, including cutting, matching, calculating materials and correcting production errors. Furrier must also be able to train and supervise the Henig Furs Alteration department.
Sales Associates- Henig Furs, Inc. is looking for energetic Retail Sales Associates to join our dynamic Henig team. by As member of our team, the retail sales associate is at the forefront of our sales. Our ideal candidate will be self-motivated, goal oriented and a team player excited to learn and grow while providing superior service to our customers.